Nerdology
Apr 20
[video]
Apr 19
"Yes hi, I'm here to pick up some power converters. My friend Luke told me you had some for sale."
Huh? I thought Peter Parker was a photographer. The direction these new Spider-Man movies is taking is very strange. /s
Apr 18
I'm playing BioShock - Burial At Sea
Big Daddy's are still terrifying. Even after all these years.
Apr 17
iOS 8 Feature Requests
I usually write this post closer to WWDC, but iOS 7 is in need of a lot of work so I'm posting early. I'm not even going to request defaults for email, browser, and maps. There's no point dwelling on things that are never, ever going to happen. Let's jump in.
- Shake to Undo
Really? You're still here? My iOS 5 request list asked if there was a better, cleaner way to handle undo and yet, it's still hanging around. There HAS to be a better way than shaking the phone to deal with undo. But maybe not? It's been in iOS for so long I'm almost convinced there's no better way. Almost.
- Smarter About Pausing Music
Sometimes the volume should be just lowered not totally stop. If I'm listening to music and then I quickly want to record a video of something. My music doesn't need to turn completely off and remain off until I launch into the Music App again and hit play. Apple can be smarter about that.
- New Multitasking
I wrote about this a few weeks ago. I think having access to your dock in the multitasking screen would be awesome.
- Folders
Folders have become abysmal in iOS 7. Only 9 items on screen at a time? And you can actually trap apps on their own page without knowing it. I never particularly liked the old folders, but some kind of hybrid of old folders with pages is a great place to start.
- Lock Screen
We should be interacting more with the lock screen. The lock screen as it is now seems too much like it's been hacked together from what the original lock screen was and made to work as notifications became more important. It needs to be rebuilt from the ground up.
I should be able to reply to a text message from the lock screen. 

I should be able to launch into the dock apps from the lock screen (much the way TouchWiz and Sense work). That way from lock screen and from multitasking you can always get to your most important apps.

We don't need a clock to take up 1/3 of the lock screen.
Notifications that are outdated should go away. My transit app displays that there were delays on the 6 train this morning, even after it's been corrected.
- Touch ID
Open up Touch ID so it can manage passwords on websites or within apps. I have to type in a ridiculous password every time I need to go into my banks app. Would love to bypass that with my fingerprint.
I would bet 1000 dollars that this is coming in IOS 8. It's the natural iteration of Touch ID and a way for people to get excited about it. Especially since it's very likely that more devices are going to get Touch ID this year. Expect it in all new iPhones and iPads in the fall.
Apr 16
Cover Story: Station to Station: The Past, Present, and Future of Streaming Music -
From YouTube, to Pandora, to Spotify, streaming music is piloting our listening habits in fascinating new ways that both upend old hierarchies and recall innovations of previous eras. Eric Harvey explores how these developments are affecting ideas of taste, access, and ownership in the 21st century, and what this shift means for fans and artists alike.
This Pitchfork cover story is wonderful, beautiful, and exactly in line with how I've been thinking recently. Go read it if only to see the great design.
[video]
Apr 15
Introducing Steam Gauge: Ars reveals Steam's most popular games -
Kyle Orland just dropped a bomb revealing two month look at Steam sales and games played. It's incredible. Go read the whole thing. Here's just a sample.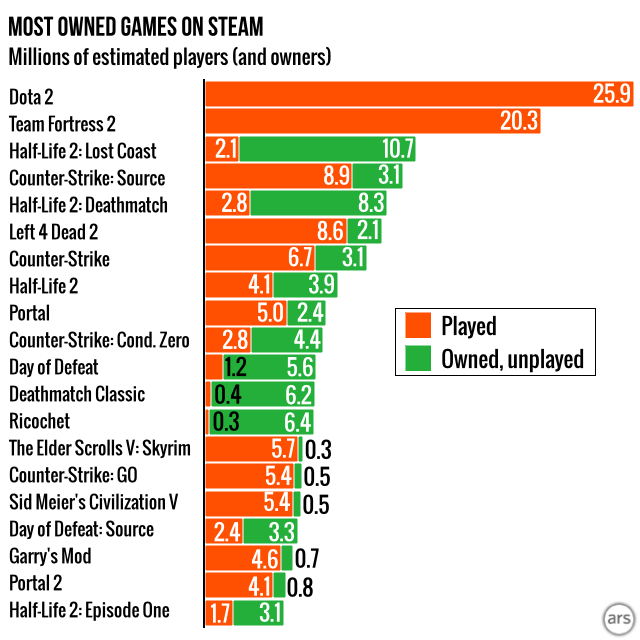 As you can see, just because a game is registered to a lot of Steam accounts doesn't mean it's popular. Half-Life 2: Lost Coast, for instance, is the third-most popular game on the service by ownership, registered to about 12.8 million Steam accounts by our count. But the tech demo, which shows off some deleted content from Half-Life 2, has only been actively loaded up by about 2.1 million of those owners, placing it behind 35 other Steam games by that metric.
Does anyone want to play Titanfall? I'm going to play Titanfall right now. Gamertag: Ice Jedi
dcu:
DC Superhero Cities by BatmanBrony

Nice little map.
Love this. … though it's still incredibly strange to me that Gotham is located in New Jersey. I'm almost used to it.