Nerdology
Apr 16
Cover Story: Station to Station: The Past, Present, and Future of Streaming Music -
From YouTube, to Pandora, to Spotify, streaming music is piloting our listening habits in fascinating new ways that both upend old hierarchies and recall innovations of previous eras. Eric Harvey explores how these developments are affecting ideas of taste, access, and ownership in the 21st century, and what this shift means for fans and artists alike.
This Pitchfork cover story is wonderful, beautiful, and exactly in line with how I've been thinking recently. Go read it if only to see the great design.
[video]
Apr 15
Introducing Steam Gauge: Ars reveals Steam's most popular games -
Kyle Orland just dropped a bomb revealing two month look at Steam sales and games played. It's incredible. Go read the whole thing. Here's just a sample.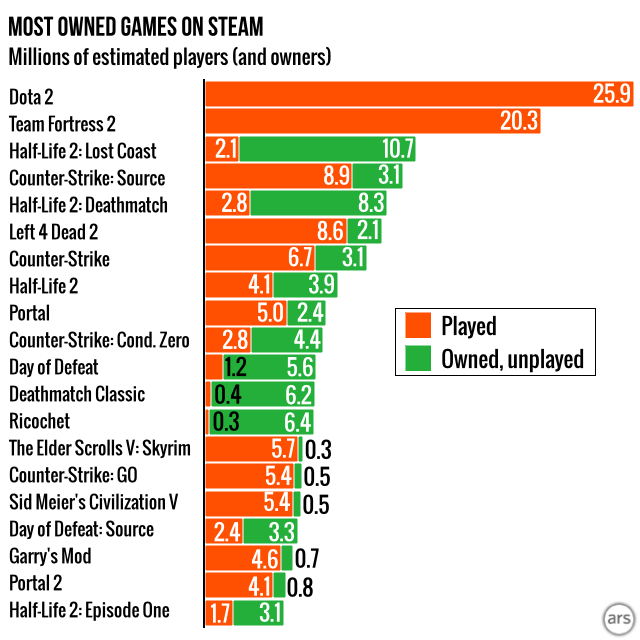 As you can see, just because a game is registered to a lot of Steam accounts doesn't mean it's popular. Half-Life 2: Lost Coast, for instance, is the third-most popular game on the service by ownership, registered to about 12.8 million Steam accounts by our count. But the tech demo, which shows off some deleted content from Half-Life 2, has only been actively loaded up by about 2.1 million of those owners, placing it behind 35 other Steam games by that metric.
Does anyone want to play Titanfall? I'm going to play Titanfall right now. Gamertag: Ice Jedi
dcu:
DC Superhero Cities by BatmanBrony

Nice little map.
Love this. … though it's still incredibly strange to me that Gotham is located in New Jersey. I'm almost used to it.
Apr 06
Exclusive: this is Android TV -
Sean Hollister has a huge scoop here.
According to documents obtained exclusively by The Verge, Google is about to launch a renewed assault on your television set called Android TV. Major video app providers are building for the platform right now. Android TV may sound like a semantic difference — after all, Google TV was based on Android — but it's something very different. Android TV is no longer a crazy attempt to turn your TV into a bigger, more powerful smartphone. "Android TV is an entertainment interface, not a computing platform," writes Google. "It's all about finding and enjoying content with the least amount of friction." It will be "cinematic, fun, fluid, and fast."
Some quick thoughts:
The inclusion of Hangouts is really interesting. Does that mean a supported camera? Keyboard?

If this is running Android, what is Chrome OS for? Ok maybe that's an unfair jab at Chrome OS, but if the Chromecast was built on Chrome OS, why is this new thing built on Android? It's just another item on the, "why does chrome OS exist" list.

sigh to the optional game controller.

Back to the Hangouts thing, can you snap Hangouts off to the side, like on Xbox? Because that would be kind of awesome.
Ok, those are my quick thoughts. Hopefully all will be revealed soon.
Apr 03
[video]
WWDC starts June 2nd.
Apr 01
Mar 30
Call it iOS 7.5 not iOS 8
When Apple released iOS 6 it was very much the same OS it had previously. The features it showed off were more refined but there was nothing groundbreaking, nothing that screamed "I have to download this right now!" By the time iOS 6 was announced we already had multitasking, Siri, copy/paste, FaceTime, Folders, and Notification Center.
By this point Apple had been known for showing of "tent pole features" on stage. The things that re really going to wow everyone, and get developers and consumers excited.  The features shown off for iOS 6 were:
- Apple maps
- Siri enhancements
- Facebook integration
- Shared Photo Streams
- Passbook
- FaceTime over cellular
- Phone enhancements
- Mail enhancements
- Safari enhancements
- Accessibility enhancements
Looking at that list, it doesn't really seem like an update worth a point zero. I was underwhelmed, and the more I thought about it, the more I directly related feeling to the fact that they called it iOS 6 and not iOS 5.5. It just felt like a refresh, a spring cleaning, and not a renovation.
iOS 7 still feels a little rough around the edges. 7.1 improves some things and slightly redesigns some others, but my phone still crashes for no reason, and folders are still a mess. What Apple really needs is to release a Snow Leopard for iOS. They don't need to release a ton of forward facing features for users, they just need to clean everything up and make it all work nicely together. A faster, lighter, OS that doesn't crash.
Don't get me wrong here, there is a 0% chance that Apple calls whatever ships on the next iPhone 7.5. I have no doubt they're going to call it iOS 8. They need to for marketing reasons. I'm just trying to apply logic where I shouldn't. I'm just writing this for my own sanity.
-Creighton